About Us
The Cooperative Satyroi was born in 2011, in Reggio Calabria province, in the heart of the Area Grecanica , cultural district protected by UNESCO with historical origins in the Magna Graecia. The Cooperative, sponsored by AIAB (Italian Association for Organic Agriculture) in Calabria, in addition to being an organic farming company is a social organization. His actions are strongly oriented towards inclusion and sustainable development of rural areas by promoting models of socio-economic and cultural development to retrain and promote the cultural and environmental heritage , responsible consumption , ethical work in agriculture , through the multifunctionality of organic agriculture as the guarantor of the integrated development and participatory.
Promotes food products, on the national and international markets.

Coordination of small and medium-sized enterprises by stimulating forms of business development and sustainable production strategies.

Research projects coordination and implementation, promotion and rural development activities , conservation of biodiversity and territorial identities, mediator between public and private entities.

Promotional activities of rural development, forestry and environmentally friendly agriculture.

Protects and enhances the historical and cultural identity of a specific territory, protection of biodiversity and the agro foods excellence through "Bio Distretti" (Organic District).

Develop relationships, activities and initiatives with consumers and operators in the field of production and agro-biological transformation.

Actions to relationship between producer and consumer; promoting solidarity purchasing groups (GAS), organized groups of request and supply (GODO) and wine tourism activities

Promotes, organizes, manages, educational activities and awareness campaigns by educational activities and training related to organic farming and biodiversity.

Food culture programs, to better promote knowledge of the historical roots, the production processes and forms of public catering.

Cultural events, and publishing products of popularizing education and science, connected to the world and culture of rural territories.
Area Grecanica: our location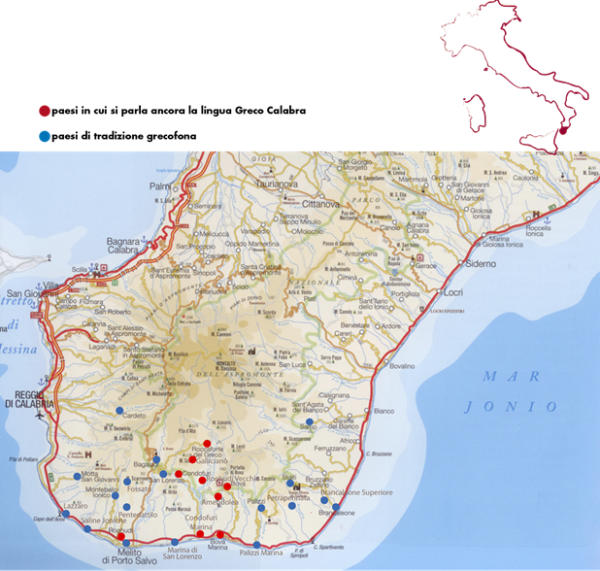 Satyroi is located in the most southern point of the European continent, more precisely in a part of the Reggio Calabria province called Area Grecanica. Here still live small communities who speak an ancient language of Greek origin. They are the Greeks of Calabria, who migrated from Greece to the Ionian Calabrian coast between the VIII° and VI° century B.C. to seek and cultivate new lands. Since then, the Hellenic identity survived the Roman civilization, grew over time even after the subsequent arrival of the Byzantines, which allowed new relationships between Calabria and territories of the East. During IX century the grecofone community, confined and isolated in the Aspromonte Mountains escaped the threat of the Saracens and Turks. The Hellenism of Calabria developed in this area so rich in impenetrable mountains and along the rocky bed of the rivers called "fiumare" which were the only means of access and communication also with the neighboring city of Reggio. The relationship between the Greeks and their Calabrian mountains allowed to shape the habits and lifestyle of shepherds and farmers who dedicated their lives to the land. Rurality and the identity of the Hellenistic Area still gives suggestions of her past greek also and especially through its food and wine.